Welcome to an Underwords guest post, which is coming to you from horror writer Armand Rosamilia. Enjoy!
~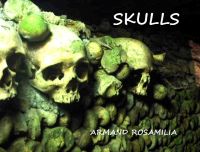 I've been chugging along on this Skulls World Blog Tour 2011 and talking about the six stories published in the release. So far, I've hit on five of the six. Today will finish it up but it's not the least of the stories, because "Vacation's End" is one of my favorites.
First, the eBook itself: Six tales from author Armand Rosamilia, including "Memorial Site," "Vacation's End," "1920 Gallery Card #4," "Stairs To The Ocean," "Beastie," and "Crow Mill Bridge" plus a preview of the urban horror novella Death Metal. You can find it on Amazon Kindle for only $1.99.
Now, on to the story itself.
"Vacation's End" is one of the older stories in the collection, written in my early twenties when I was still living in New Jersey. At the time I'd never been to Florida, but I decided to write a story about a married couple returning from the husband's business meeting with his nagging wife.
Ironically, I now live in Florida. Coincidence? Hmm… and at the time I wrote the story I was knee-deep in divorcing my first wife. Of course, we were both young, of course we were too immature, of course… anyway, the story was my own therapy for dealing with the hatred and the rejection and the sadness of separation and divorce.
I won't ruin the story for you, but I'd like to think it's not just a cliché' revenge story or some lame attempt to exorcise my own inner demons… but it might be, and I can deal with that.
Besides, who hasn't had a bad relationship in their lives, had that person that you still loved or might have loved, but they are driving you absolutely mad?
I hope you enjoy the story and the rest in Skulls.
And be careful driving home from Florida…
~
Armand Rosamilia took over Rymfire eBooks not too long ago. Originally, he was only helping them out but then he took over the business, which he's happy about. So far some great anthologies have been released, which you can find at http://rymfireebooks.com/store.html You can also check out the upcoming anthologies and open reading periods at http://rymfireebooks.com/submissions.html